Nowadays chatbots are a very popular and essential tool for online businesses but the discovery of chatbots is not a recent one. Chatbots have been around for quite a while now. Mostly because of the immense popularity gained by the messaging platforms over the past few years, chatbots are rising to trend now. So, let us explore the various aspects of chatbots and see how we can use chatbots effectively to make human lives simpler.
What are Chatbots?
Chatbots are AI-based computer applications that simulate human conversation through voice or text command.
Chatbots were designed with the sole aim of reducing human efforts. And because of continuous evolution in technology, interaction with the chatbot is going much easier, as compared to interacting with humans.
Chatbots can be easily customizable and they can be programmed as per your requirement. Or you can use chatbot builders and build your own chatbot without any coding skills.
If you're running a retail business or a business that needs to answer similar questions again and again then humans are much costly, but with the help of chatbot you can increase your response rate with upto 200%.
Best Chatbot Building Tools In 2021
#1 MobileMonkey
Mobile Monkey is one of the best chatbot builders for marketing and lead generation. It's mainly made for Facebook Messenger but it can be easily used with Instagram, WhatsApp, Website etc.
This chatbot will be very helpful for the businesses, which are using omni channel marketing strategy to target their audience..
According to Larry Kim (CEO & Founder of Mobile Monkey): Facebook messenger chatbots are the No. 1 growth marketing channel in the next 5-10 years.
Pricing:
You can start with the Free Plan without adding any card details. And their Premium plans start from $14.45/month (if Paid Annually). For more information, please visit here.
#2 FlowXO
FlowXO is best for the business to communicate and engage with their customers. It can be easily integrated with Slack, Telegram and even in your Website.
You can easily make a chatbot with their drag and drop feature without any coding knowledge. And you can also accept payment from the chatbot.
Pricing:
You can start with the Free plan without any card details. And their Premium plan starting with $19/month. For More information about FlowXO, please visit here
#3 Botsify
Botsify is one of the popular AI-based chatbot applications that helps you to create an intelligent chatbot for your customer service. They're claiming that after integrating Botsify with your business your ROI will increase upto 5X.
Botsify will help you to create Watsapp Chat Bot, Website Chatbot, Facebook Messenger Chatbot and SMS Chatbot for your business.
Pricing:
You can start with a Free Trial for 14 days and then after subscribing to their paid plans starting from $49/month. For more information, please visit here.
#4 Pandorabots
Pandorabots is also one of the popular AI-based chatbot applications that helps you in eCommerce Business, Customer Services, Marketing and even for entertainment.
It's a multilingual and voice enabled chatbot. You can design chatbots as per your business need. And if you have coding skills you can customize your chatbot as a developer.
Pricing:
You can start with a SandBox Plan for Free and their paid plans starting from $19/month for developers and Pro plans starting from $199/month. For more info, please visit here.

#5 TARS
TARS is a drag and drop chatbot builder. It's helpful in your lead conversion campaign. This is an advanced version of the landing page.
Instead of asking details from the lead generation form, your chatbot will help you to get leads.Tars team claims that it increases your conversions by 2X using conversional landing pages.
Pricing:
You can start with a Free trial for 14 days and then after their paid plans starting from $499/month or $4999/year. For More details please visit here.
Note: If you're an early age startup, you can start with a special plan of $99.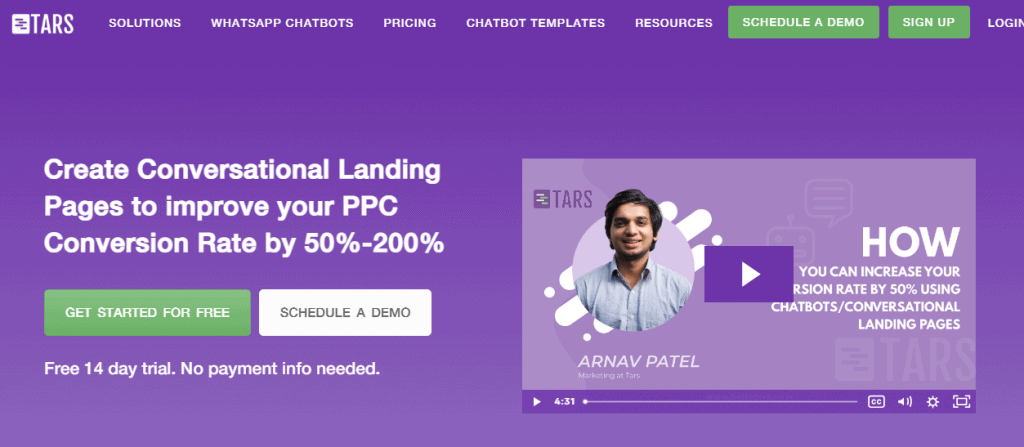 #6 Manychat
Manychat chatbots will help you in sales, marketing and customer service through Facebook messenger. It's simple drag and drop feature allows you to make your chatbot in minutes, using their pre-existing templates.
It can be easily integrated with Shopify, Google Sheet, Hubspot CRM, You can also add manychat to your Facebook messenger ad (Click to messenger ad) to increase your conversion rate more effectively.
Pricing:
You can start with the Free plan. And their paid plans starting from $10/month and customization available for businesses. For More details please visit here.
#7 Landbot
Landbot is an Intuitive Conversational chatbot builder. It's code-free drag and drop interface allows you to make a functional chatbot in minutes.
This chatbot helps you to customize your client journey with personalization and will also help you to convert visitors into loyal customers with instant messaging. It can easily integrate with Slack, Google Sheet, Stripe and many more.
Pricing:
You can start with the Free Sand plan. And their Starter paid plan starting from 30€/month and Professional plan starting with 100€/month. For More details please visit here.
Conclusion
In this way, you can use chatbots to expand your business and engage with your customers. Chatbots are, however, still at their initial stages of development. More advanced chatbots are yet to be discovered that will completely revolutionize businesses.
Most Asked FAQ's
What is the meaning of chatbot?
According to Wikipedia, A chatbot is a software application used to conduct an on-line chat conversation via text or text-to-speech, in lieu of providing direct contact with a live human agent.
How Much Does It Cost to Develop a Chatbot?
Majorly, chatbot builder companies offer you a basic plan for free with limited features but if you want more premium features then you can choose the plan accordingly as per your business needs.
What is the future of chatbots?
Future of chatbots are in high demand in the future because it reduces human efforts and gives speed in the communication process. And the best part is it's cost effective as well available 24*7 with very less management.
How much time is needed for developing a chatbot.
This all depends upon the functionalities you need for your chatbot. If you want a basic chatbot it might take 1 week but if you need a full functional chatbot will many conditions then it might take more than 2-3 weeks or even months.
Most Popular chatbots in 2021
#1 Mobile Monkey
#2 Flow XO
#3 Botsify
#4 Pandorabots
#5 Tars
#6 Manychats
#7 Landbot
Is Alexa, Google Assistant, Siri are chatbots?
No, they are not chatbots. They are virtual assistant works on voice command. It can be called as a voice powered chatbot.
Which popular companies are using chatbots?
1. Dominos
2. McDonald
3. MasterCard
4. Spotify
5. Starbucks