Plagiarism checker tools are the best way to check the content uniqueness within a few seconds by uploading the document or putting the URL in it.
This article will help you find the best plagiarism checker tools for your need, either you are a student, blogger, content writer, or a businessman.
So let's discuss some of the plagiarism checker tools.
Free Plagiarism Checker Tools For Bloggers/Content Writers
1. Small SEO Tools
Small SEO Tools is one of the most popular and useful plagiarism tools for content marketers, writers and bloggers to check the plagiarism of the less than 1000 word content.
This tool will help only if the exact matches happen but it's not capable of checking if the sentence is slightly changed. And it's not suitable for large documents and papers.
So If you're a new blogger or writer you can use this tool for free. It has a limit of 1000 words.
Link: https://smallseotools.com/plagiarism-checker
2. Duplicate Checker
Duplicate Checker is an another amazing tools that will help you to detect the copied content over the internet.
This tool also allows you to do plagiarism check for just 1000 words at a time. But in this you can also check your doc, pdf, etc files and any website url as well.
Link – https://www.duplichecker.com
3. Copyscape
Copyscape is also one of the favorite tool for content marketers and blogges to detect the copied content on the internet.
This tools evaluates the content from the Google search results pages. But Copyscape doesn't help you to check any documents.
Link: https://www.copyscape.com
4. Plagiarism Detector
Plagiarism Detector is also one of the incredible plagiarism tools that helps you to detect your content with a limit of 1000 words in it's free plan. But if you want to analyse more than 1000 words then you need to sign up their Pro Plan.
Plagiarism detector best thing is, you can also upload any type of text document, connect with your dropbox and check the content's duplicacy.
Link: https://plagiarismdetector.net
Free Plagiarism Tools For Students and Teachers
1. Scribbr Plagiarism Checker
Scibbr Plagiarism checker is one of the popular plagiarism checkers for students. It compares your document to over 70 billion web pages and 69 million scholarly publications.
This tool also detects plagiarism in paragraphs where the sentence structure is changed, synonyms are used, extra words are inserted or text from multiple sources is combined.
This tool not only checks the content from websites but also from the journals and books.
Link: https://www.scribbr.com/plagiarism-checker
2. Edubirdie
Edubirdie is also in the top list of best plagiarism tools for the students. This tools helps the students to take professional writers help for their writing assignment
This tool not only helps you to write a good quality article but also helps you in editing and proofreading.
Link: https://edubirdie.com/plagiarism-checker
3. Unicheck
Unicheck is also one of the best cloud-based plagiarism checker software. It helps to find similarities, citations and references in texts.
According to Wikipedia, Unicheck is primarily used in K-12 and higher education, and is utilised by more than 400 institutions worldwide.
Link: https://unicheck.com
4. Quetext
Quetext is also a leading plagiarism checker in the market. This not only helps you to compare your content with millions of web pages on the internet and their database it'll also help you to know the similarities found on the internet.
They're using Deepsearch Technology that helps teachers, professionals and students to detect the quality of the content.
Link: https://www.quetext.com
Premium Plagiarism Tools for Students, Bloggers and Institutions
1. Grammarly
Grammarly is also one of the most popular and widely used tools. If you're a content writer I'm sure you'd use it to check the grammatical errors before delivering your content to your clients. This is an amazing feature of Grammarly for free.
But it also has one premium feature you can use to check if your content is plagiarised or not. If you want only one tool that manages all your content quality then this tool you can' miss in your list.
Link: http://grammarly.com/plagiarism-checker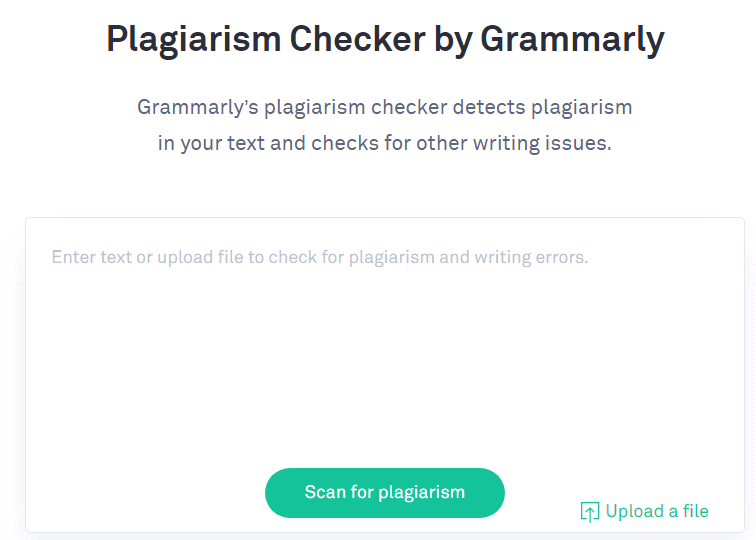 2. Plagscan
Plagscan is mainly used by academic institutions. PlagScan compares submissions with web documents, journals and internal archives. This tool helps you to manage your document, plagiarism reports, assignments, statistics and much more.
Link: https://www.plagscan.com/
3. Plagramme
Plagramme is also an amazing tool to check plagiarism of your essay, assignment or any type of content. You can easily check your hundreds of pages in seconds.
The best thing is, they're also offering our plagiarism checker free for education. Teachers, lecturers, professors from schools and universities worldwide.
Link: https://www.plagramme.com
Conclusion
Every tool has some unique features. Every tool has its own advantages and disadvantages. Some are best for students and teachers while some are best for bloggers and content writers. So it all depends upon your needs. Don't stick with any one, just check which is better for your content.
Most asked FAQ's
What is plagiarism checker?
According to Wikipedia, Plagiarism detection or content similarity detection is the process of locating instances of plagiarism and/or copyright infringement within a work or document. The widespread use of computers and the advent of the Internet have made it easier to plagiarize the work of others.
Is it safe to use Plagiarism checker?

Yes, it's completely safe to use.
How does plagiarism checker work?
What is the limit of words in plagiarism checker tools?

Word limits vary from tool to tool, In most of the tools you can check 1000 words at a time.
Also Check Out: What is Account Based Marketing?