Most of the knowledge people have about AI comes from science fiction movies. These movies generally are a tale of a dystopian world where technology gets the upper hand on humans. The reality might not be that extreme.
We are at a time where technology is getting adopted at a faster rate than ever before. It took us 10000 years to get from printing to writing and just 500 years to get to the email. The beginning of modern AI can be traced back to just as far as 1956. And now we see ourselves in the Golden Age of Artificial intelligence.
AI and other aspects of technology are affecting our lives in more ways than we can think of. It is woven into our lives. Humans and Machines are putting together their strength and intelligence to achieve the best results.
AI in marketing is one such aspect that is being developed voraciously. By 2021, companies are expected to be spending $57 billion on AI platforms. It's the right time for businesses, regardless of their size, to think about how artificial intelligence can give them an edge over their competition.
Magnolia Market
Mongolia Market, an iconic retail destination in Waco, Texas, operated by Fixer Upper stars Chip and Joanna Gaines, brings AI to their shoppers. The shop is known for its fantastic customer service, and the owners wanted to provide that fantastic service to its customers who shop online.
To meet this goal, the owners teamed up with Shopify Plus to create a robust online store and an augmented reality app that lets users view products in beautiful 3D. Users can select the object they want to buy and test how it would look in a virtual location.
AI helped strengthen Mongolia Market's e-commerce sector by driving sales, customer acquisition, and brand awareness.
Starbucks
Starbucks uses predictive analytics to serve personalized recommendations. The multinational chain of coffee houses ideated personalized recommendations in 2016. The business uses its loyalty card and mobile app to analyze consumer data. Various purchase metrics are recorded, including the purchased item, place of purchase, and even the time. With the help of predictive analytics, this data is processed, and Starbucks used it to serve personalized marketing messages, offers, etc., to their consumers.
Alibaba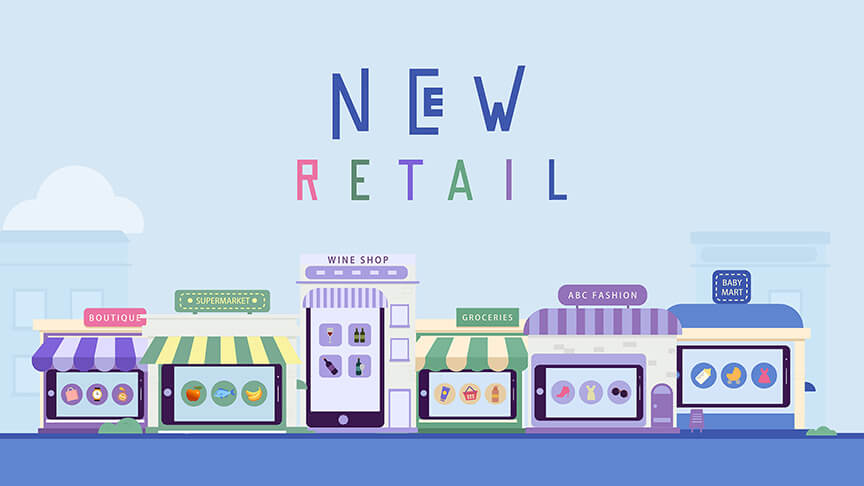 This China-based retail giant opened a physical Fashion AI store in 2018 in Hong Kong to infuse the offline and online Fashion shopping experience into their New Retail model. The brick-and-mortar store is filled with RFID racks and AI mirrors. The first example of this model was in 2016, in Alibaba Freshippo store (food outlet), where users can order food from the restaurant and then pick your order from themselves just by scanning the barcode with the mobile app as shown in this video.
Since then, multiple businesses have used this shopping model for a new-age shopping experience. There are multiple storefronts from Grocery stores to Automobiles as the New Retail shopping model has gained quite a name for itself in China.
Nike
Personalization is the key as consumers look for products that make them feel unique. Nike jumped on the AI bandwagon in 2015. In 2019, Nike came up with a system that allowed customers to design their own sneakers in-store.
The sneaker giant also uses AI to deliver amazingly personalized customer experiences. When the customer enters the Nike Inc. flagship store located in New York City and uses the app, the business knows who they are, their size, what sports they play, and what colors they prefer.
Oreo
Recently Oreo collaborated with a conversation media platform, Bobble AI, to promote its Recipic campaign. Using its multiple keyboard apps, Bobble made stickers for the campaign that users can share in their personal conversations. This way of raising brand awareness or marketing is known as conversation media marketing that uses branded content like GIFs, Stickers, Animoji, Emoji, and Avatars shared between users in conversations.
The AI-based algorithms of the keyboard apps show these stickers to users based on their real-time intent. For example, if a person types Happy Birthday, then the oreo cake sticker shows up. This process is done with the help of keyword tagging and Machine learning (that allows the app to see patterns in users' text) to provide users with the most suitable stickers.
Stich Fix
Stich Fix is an online styling service that delivers personalized fashion products to its customers every month. Stitch Fix is partnering with experienced stylists with efficient AI to deliver refined recommendations to customers.
After AI has analyzed the data on style trends, body measurements, customer feedback, and preferences, it provides stylists with a workable set of possible recommendations to the human stylists. These professional stylists then handpick clothing and accessories for individual customers. This example shows the advantage of AI, AI not replacing humans but enhancing them.
Using AI gave stitch to fix more confidence and lowered the risk of investing in merchandise.
Sephora
The popular cosmetics retailer uses the power of data analytics, augmented reality (AR), and AI to become a digital phenomenon. Their app incorporates some of the latest AI tools and models. They are using these technologies to offer interactive tools like a virtual lipstick assistant.
Their virtual artist feature enables customers to see designs or the latest makeup trends on their facial avatars before buying the product. Another feature that uses data analytics and machine learning is their Pantone test that determines the best product recommendations for customers based on their preferences analyzed by the text. They also allow users to share their designs with the world using instant social sharing buttons.
Conclusion
AI is no longer a farfetched dream or a mere tale of science fiction that we saw in the movies. Now It is a part of our present and even a more significant part of our future. These were just 7 of the hundreds of businesses that are reaping the benefits of AI.
There are various uses of AI that can affect any business with different touch points other than Marketing or Sales. Like Alibaba's New Retail model AI might evolve the age-old funnels of varying businesses into something more efficient.
Read More Resource:
Startup Ideas That Works In 2021
What is Omni-Channel Marketing?