TravelTriangle is one of the top online travel marketplaces, serving as a bridge between holiday seekers and over 650 esteemed travel agents. Travel Triangle provides access to a wealth of travel expertise for more than 65 global destinations.
Their mission of Travel Triangle is more than just a simple travel agency; they strive to cultivate a comprehensive holiday ecosystem dedicated to enhancing the traveler experience.
How Travel Triangle Started
Travel Triangle started when the CEOs Sanchit Garg, Prabhat Gupta and Sankalp Agarwal decided to take a trip to Leh in 2010. However, they had a pleasant experience. Despite the experience, they found themselves and many other tourists being cheated by travel agents.
They have always been fascinated by science and innovation and were keen on putting it out in the world. They decided to tap into the issue and make something that would lead to people making out good memories back after traveling from their favorite places.
Although different people told them that this's not the right time to dive into the whole new industry with the recession etc., but the love & passion to create and innovate kept them on their toes, leading to them creating the brand Travel Triangle.
Travel Triangle is now getting almost 8 Million traffic per month organically with more than 47 thousand backlinks. (As per Ahrefs.com)
Here is the organic traffic growth chart of Trave Triangle since January 2016.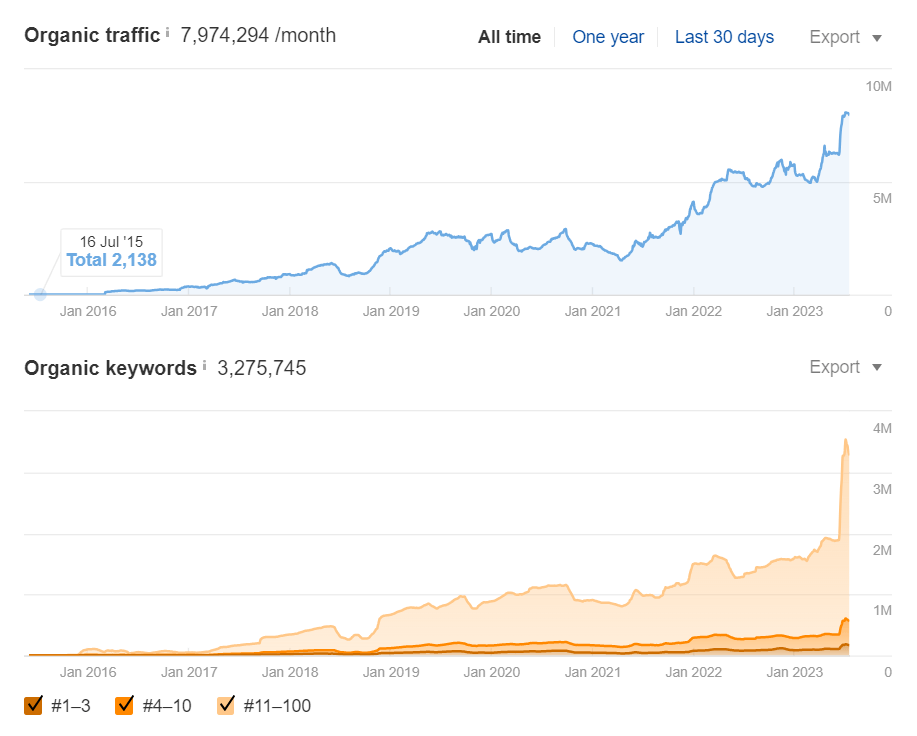 Top 10 Performing Pages of Travel Triangle in July 2023.
Get SEO Strategies in Your Inbox
Funding Rounds of Travel Triangle
Over the course of 7 investment rounds, TravelTriangle has raised a total of $47.9 million in funding. In the last funding round that happened on November 18,2019 , they raised a whopping $13 million by Fundamentum, KB Global Platform Fund.There are 10 lead investors of the company.
| Date | Series | Investor | Amount |
| --- | --- | --- | --- |
| Jun 1, 2012 | Angel Round | – | $200K |
| Jul 17, 2014 | A | Elevation Capital | $1.7M |
| Apr 29, 2015 | B | Bessemer Venture Partners | $8M |
| Feb 7, 2017 | B | $10M | RB Investments Pte. Ltd. |
| Apr 10, 2018 | C | $12M | Fundamentum |
| Oct 17, 2018 | Debt Financing | $3M | InnoVen Capital |
| Nov 18, 2019 | D | $13M | Fundamentum, KB Global Platform Fund |
Things offered by Travel Triangle
Travel Triangle provide different predefined and customizable packages as well for the following:
Honeymoon Packages
Family Packages
Holiday Packages
Holiday Deals
Luxury Holidays
Also, you can read 100s of travel guides citywise, recommendations, tips and much more on their blog.
Business model of Travel Triangle
Travel Triangle works hard to keep customers happy. They ensure good quality and the best deals. To do this, they use their own SaaS software that helps them understand what their customers want and fix any issues.
On their website, you can find many choices from trusted travel agents, making it easy to plan your trips while still getting a great deal.
Regarding revenue, as per some sources on the Internet, Travel Triangle earns a commission of 5-8% on each holiday booked, which can go up to 10% in some places. They only have a few costs to run their business, mainly just marketing and operations. This helps them grow their business while keeping costs low, making them a reliable choice for people planning their holidays.
Travel Triangle Competitors
Travel Triangle Organic Competitors are the following,
Travel Triangle FAQs

How to contact the Travel Triangle?
What payment methods does Travel Triangle accept for trip bookings?
Travel Triangle accept almost all type of payment methods,
> Debit Card
> Credit Cards
> NEFT/IMPS
> UPI
Who is the owner of Travel Triangle?
Sankalp Agarwal and Prabhat Gupta are the co-founders of travel triangle.
What is a travel triangle legal name?
Travel Triangle legal name is "Holiday Triangle Travel Private Limited".
Travel triangle offers international tour packages?
Yes, they offer more than 65+ destinations across the world.