EaseMyTrip is an online Travel company founded by Nishant Pitti, Rikant Pitti, and Prashant Pitti in 2008. With its headquarters in New Delhi, they offer hotel reservations, airline tickets, vacation packages, bus reservations, and white-label services.
Let's see how EaseMyTrip started,
Story Behind EaseMyTrip
The concept of the "EaseMyTrip" idea came into existence when Rikant Pitti found that a travel agent was overcharging his father on every flight he took for his business needs. His father was a coal trader, and he took 10-15 flights in a month. One day, Rikant and his elder brother found that the travel agent was charging almost 1.5k extra per ticket from his father, which means nearly 20k per month.
After this, Rikant and his brother started booking his father's travel tickets online to save his father's money. And soon, all their relatives began calling him to book their tickets. His fame spread, and his father also started referring him to his colleagues as they could get their tickets cheaper. Rikant, in turn, was getting his pocket money by charging a Rs 100-500 commission on each ticket.
Both brothers saw ample opportunity in this business. So they decided to open a business with a name "Duke Travels," and with the bulk SMS, they started marketing their travel booking services.
The big turnaround happened when an airline found frequent bookings from a single email account then they offered to join as their travel agent. Things changed then, and they started scaling and rebranding themselves as an "EaseMyTrip."
Now, EaseMyTrip is getting almost 3.5 Million traffic per month organically with more than 5 thousand backlinks to their 93000+ pages. (As per Ahrefs.com)
Here is the organic traffic growth chart of EaseMyTrip since January 2016.
Top Performing Pages of EaseMyTrip in July 2023.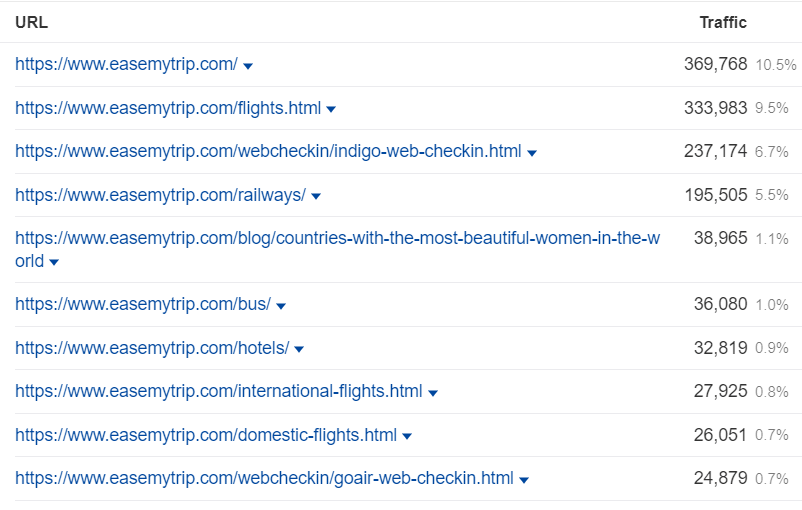 Get SEO Strategies in Your Inbox
Funding Rounds of EaseMyTrip
Throughout one round, EaseMyTrip.com secured a total investment of Rupees 165 M. On February 28, 2022, post-IPO equity funds were raised. The ticker NSE: EASEMYTRIP is used to identify EaseMyTrip.com. When their stock went public on March 19, 2021, it opened at 187.00.
Its anchor investors included HSBC Global Investment Funds, Tata Trustee, Aditya Birla Sunlife Insurance Company, Nomura, Sundaram Mutual Fund, Nippon Life India Trustee, and Bajaj Allianz Life Insurance Company. After the company's IPO was published, it recorded an 86% profit in 2020–2021 despite losing 50% of its booking revenue due to COVID–19.
Acquisitions & Mergers of EaseMyTrip
The company has acquired four businesses. Nutana Aviation Capital was their most recent acquisition as of December 1, 2022.
| | | |
| --- | --- | --- |
| Date | Company | Amount |
| Oct 28, 2021 | Traviate | – |
| Nov 18, 2021 | Spree Hospitality | ₹182.5M |
| Dec 16, 2021 | Yolobus | – |
| Dec 1, 2022 | Nutana Aviation Capital | – |
Services offered by EaseMyTrip
EaseMyTrip offer wide range of travel services as follows:
Flight Bookings
Hotels Bookings
Trains Bookings
Bus Bookings
Holiday Packages
Cruises
Charters
Activities
Gift cards and offers
Corporate Travel
Business Model of EaseMyTrip


By concentrating on the B2B2C (business to business to consumer) distribution channel and granting travel agents access to its website to buy domestic flight tickets, EaseMyTrip launched its operations in 2008 to serve the offline travel market in India. The company then started operating in the B2C (business-to-customer) distribution channel in 2011 by employing its B2B2C medium and focusing on the travel requirements of India's expanding middle-class population.
Because of their position in the B2B2C and B2C channels, they launched their B2E (business to enterprise) distribution operations in 2013 and provided end-to-end travel solutions to corporations. Due to their involvement in three separate distribution channels, they have a wide range of consumers and a broad distribution network.
Few More Interesting Thing About EaseMyTrip
EaseMyTrip started working with roughly 17 Bollywood movies as its travel and promotion partners. Mr. Nishant Pitti, the CEO of EaseMyTrip.com, entered the film production industry to support the company's branding efforts. The Bollywood movie "Madaari," released in theaters on July 22, 2016, was co-produced by Mr. Pitti.
Similar Business Models
>> Travel Triangle Business Model
>> Swiggy Business Model
>> Dunzo Business Model