Today, we belong to a digital era. Everything around us is getting digitised and so are the marketing strategies. These days, small businesses mainly depend on digital marketing for establishing their business.
Digital marketing allows enhanced communication with your consumers. It also enables small scale business owners to compete with large organisations. The benefits of digital marketing are endless. So, let us see how exactly digital marketing has revolutionised the growth of small businesses.
Online Marketing vs Traditional Marketing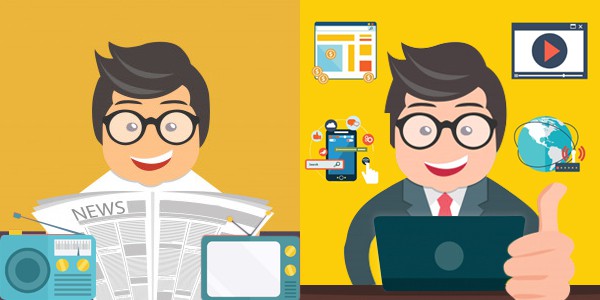 Both traditional marketing as well as online marketing is implemented by organizations as a part of their marketing strategies. However, these two marketing techniques follow different approaches and courses of action. So, let us see how online marketing and traditional marketing are different from one another.
Traditional marketing strategies have been in existence since the establishment of businesses. However, online marketing strategies are new and trendy. You can reach a wider audience whether you sell online courses, digital gadgets, or custom shoes.
The traditional approach mainly depends on hoardings, printed ads and personal reach for marketing purposes but in the case of online marketing, digital devices like laptops and mobile phones are used. Digital marketing techniques are also highly dependent on platforms like Instagram, Facebook, Twitter, Snapchat, Pinterest, etc.
Another advantage of online marketing over traditional marketing is that using digital marketing, you will be able to reach a larger audience and also make a huge profit in a very less time.
So, if you are a small business owner, it is more likely that you are going to opt for online marketing for growing your business.
Benefits of Digital Marketing for your Business
Let us focus on some of the most important advantages of digital marketing for small businesses:
Better reach: You will be able to reach a larger audience in a very small time using digital marketing strategies. Social media platforms have got a huge role to play here. Using social media platforms, you will be able to reach the target audience quickly and easily. The more you reach out, the better will be the performance of your business.
Higher conversion rate: Using digital marketing, you will be able to convert your audience to regular customers and potential buyers. You will also be able to measure the conversion rate of your website using various simple tools and methods. Digital marketing techniques like SEO, Email Marketing and SMM have a great role to play in increasing the conversion rate of your website. And any agency or SEO company in bangalore or any major city can help you with this. You need and expert's help to achieve your marketing goals as this is a dynamic field.
Brand awareness: For small businesses, reputation means a lot. Sustaining a brand name must be your topmost priority and you must always try to highlight your brand name before your audience. Digital marketing plays an effective role in the development of your brand image. Techniques like SEO makes sure that your brand gets noticed by a large number of people on any search engine. To get this you need to connect with any SEO company in bangalore or any metropolitan area.
Inexpensive: Digital marketing techniques are inexpensive as compared to traditional marketing. You will be able to carry out your marketing strategies at a very low price. This is particularly suitable for small businesses as the investment is quite low and the risk is also negligible.
Better growth: You can take your business to an entirely new level in a very short while. With proper strategies and planning, you will be able to take over other businesses in your segment within months of starting your business.
Reach the target audience: Digital marketing will make sure that the right audience is viewing the content of your website. You can reach those customers using Search Engine Optimization techniques. By focusing on the target audience, you may reduce your marketing budget and use that money elsewhere.
Local SEO for your Business
Local SEO is an integral part of small businesses. It allows businesses to promote their services and products to the local customers in the best possible way. Search engines mostly use social profile pages, local content and citation to collect information for local search and provide the best results to the customers. In order to improve local SEO, you can improve the internal linking structure of your website. You may also add location pages to the different corners of your website. Creating local content is another good idea. Your website should be completely mobile friendly. You may also optimise Google My Business to get the best results.
Creating a proper SEO strategy is not an easy task. It requires a lot of planning and efforts. So, if you wish to outsource these efforts, then you can easily hire an SEO company or an SEO freelancer to do the job for you. If you belong to cities like Bangalore. Infidigit will definitely come to your help. It is one of the most prominent SEO company in Bangalore (rated 4.9/5 on Google my business). It has been helping big and small brands and startups to reach the desired height with excellent ROI using SEO. For more information on Infidigit, you may visit their website.
Benefits of Google My Business
Google My Business has become an integral part of local search. Using Google My Business, you will be able to make sure that your business fulfils Google's requirements. If Google verifies your business as an authentic one, your search engine ranking will improve and your business will also become popular in a short span of time.
To make sure that your business is optimized for Google My Business, you require to create a Google My Business page and also verify it. You should try to use Google Posts in your account. Also, request your customers to add reviews. Encourage both positive and negative reviews. You must also make it a point to answer the queries of all your customers. This will generate the trust of your customers and they will be drawn towards your business.
Conclusion
When it comes to small-scale businesses, the benefits of online marketing are unavoidable. So, if you own a business, then it is really crucial that you design a digital marketing strategy for your brand. You also need to have all your business goals sorted. Only then will you be able to shine and rise above the masses.