Introduction
Zomato is India's leading restaurant discovery app. It was started by Deepinder Goyal and Pankaj Chaddah in 2008. Zomato works as an aggregator between restaurants and foodies.
It helps the foodies to discover, rate, and review the restaurants, and cafes based upon their experience across 10,000 cities in the 24 nations include, India, United States, Australia, United Kingdom, Canada, Turkey, UAE, Qatar, Portugal, South Africa, New Zealand, Chile, Brazil, Indonesia, Philippines, Czech Republic, Poland, Slovakia, and Sri Lanka.
Now let's see, how Zomato was started,
How Zomato started.
Zomato was started with the name 'Foodiebay' in 2008 and later renamed as Zomato in November 2010. It happened because the founders didn't want to confine themselves with only Food Business and also to avoid the confusion with the brand "eBay", because it sounds similar to Foodiebay.
Firstly, Deepinder Goyal and Pankaj Chaddah started all the menu items from their nearby restaurant and list on their intranet website, after getting some popularity and regular traffic they launched their public website in 2008. After launching the website, they started listing restaurants in Delhi NCR, and quickly extended to Kolkata and then Mumbai.
In 2012, the startup company propelled a print variant of the website in association with Citi bank as "Citibank Zomato Restaurant Guide". Additionally, Zomato extended its presence abroad to the UAE, Sri Lanka, Qatar, UK, Netherlands, Turkey, Brazil, and so on.
Subsequently, Zomato ceaselessly expanded in the worldwide market and peaked in India too. It has a wide reach on its site- about 90 million people visit the site and versatile applications.
Now, Zomato is getting almost 15.2 Million traffic per month organically with more than 71 thousand backlinks. (As per Ahrefs.com)
Here is the organic traffic growth chart of Zomato since April 2015.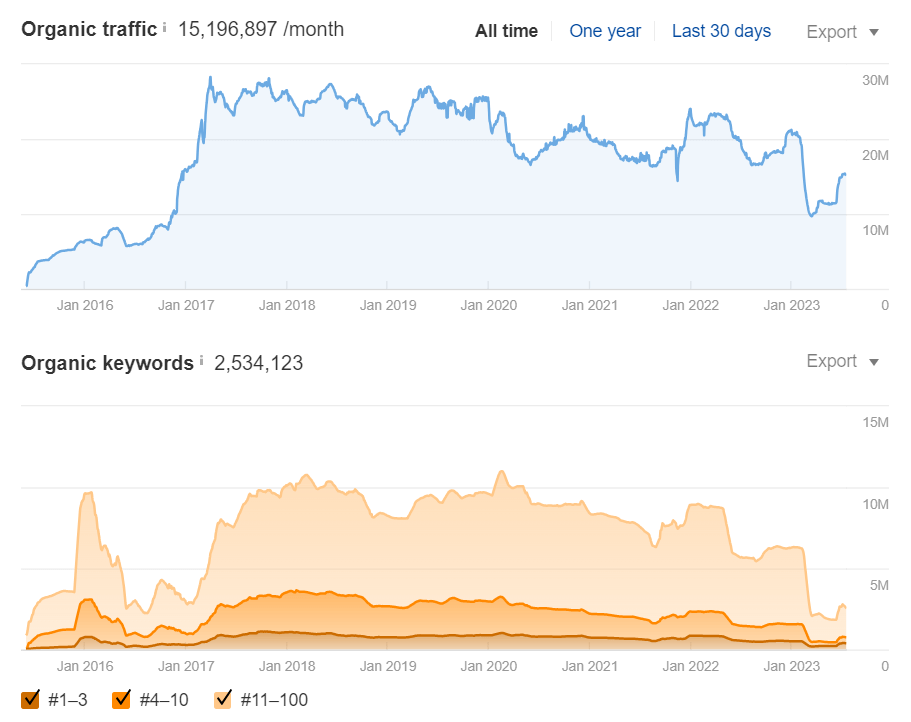 Get SEO Strategies in Your Inbox
Zomato Products and Services
They started with only a food discovery app. Now they have expanded to various macro sections in the food industry,
Here's a list of services given by Zomato,
Restaurant Ratings & Reviews,
Restaurant Search & Discovery,
Online Order: Food Delivery,
Pick Up: Ordering Take away,
Table Reservations,
Hyperpure: Ingredients supply to restaurants,
Food@Work: Canteens,
Gold: Restaurant premium subscription services
Zomato Business Model – How Zomato Earns?
If you're a Foodie, I'm sure you've used Zomato at least one time. Did you ever think, how Zomato earns?
If you're thinking Zomato earns only a commission from the restaurants, delivery charges, and their membership. That's not only their overall source of earning money. Zomato is continuously experimenting and growing their business and revenue.
Currently, Zomato earns from in-app advertising, subscription, food delivery service, Zomato Gold. Apart from all these Zomato also organizes Food events and attendees pay a small fee as a ticket.
Let's explore all these methods in detail,
Online Ordering Service: Zomato takes a certain percentage from the restaurants on each sale done through the Zomato app/website.
In-App Advertising: Advertisement is one of the major contributors to Zomato Revenue. It offers restaurants to buy space or bid on a particular city, on their app and pay for it. It can be a restaurant listing, banners, sliders. It works similar to Google search and display ads
Delivery Charges: Zomato also charges a delivery fee from the users. It may depend upon your order size and the distance between you and the restaurant. It may vary from Rs.0 to Rs.50.
Organizes Events: Zomato also started organising food events with a name "Zomaland". The sale of event tickets and sponsorships are contributed in their revenue.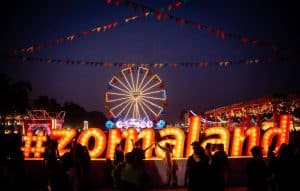 Zomato Book And Zomato Gold: These are 2 services that save a lot of time for the users. With Zomato Book you can reserve any number of seats in any restaurants and cafes with a nominal fee. While Zomato Gold gives some additional benefit to the customer with a monthly or yearly fee like buy 1 get 1 on cold drinks, extra discount, free delivery, and much more.
Now, Zomato Gold is renamed with Zomato Pro. For More info, visit here.
---
Also Read Zomato Rival - Swiggy Business Model
---
Zomato Funding Rounds
Zomato raised it's first round of funding of 1 Million Dollar (4.7 Crore) from Info Edge in August 2010.
Info Edge again invest 3 Million Dollar in September, 2011 and again invested 2.3 Million Dollar in September, 2012. And then again 10 Million Dollar in February, 2013.
In November, 2013 InfoEdge and Sequoia Capital India invested $37 Million.
In November, 2014 Vy Capital, InfoEdge and Sequoia Capital India invested $60 Million.
In April, 2015 Vy Capital, InfoEdge and Sequoia Capital India invested $50 Million.
In September, 2015 Temasek Holdings and Vy Capital invested $60 Million.
In April, 2017 Sequoia Capital India, Vy Capital, Info Edge and Neeraj Arora invested $20 Million.
In February, 2018 Ant Financial invested $200 Million and then they invested $210 Million in October, 2018.
In February, 2019 Glade Brook Capital Partners invested $39.74 Million.
In March, 2019 Delivery Hero, Shunwei Capital and Saturn Shine Steam Detailing.
In January, 2020 Ant Financial again invested $150 Million.
In April, 2020 Baillie Gifford invested $5 Million
In September, 2020 Temasek invested $62 Million.
In Oct 2020, Zomato raised $52M from US-based Kora Investments.
Zomato's net worth is around $2 billion till the end of the financial year 2020.
Zomato Acquisitions: Startups Acquired By Zomato
Zomato has recently announced to acquire Uber's Eat, an Uber food delivery business in India. The sum of the deal remains undisclosed; however, the reports estimated the amount to be around $300-350 million.
Zomato has previously acquired 13 other startups over time that helped it in a major expansion globally. The complete list is given below:
| Company Name | Year | Amount |
| --- | --- | --- |
| MenuMania | July, 2014 | Undisclosed Amount |
| Lunchtime.cz and Obedovat.sk | August, 2014 | $3.25 Million |
| Gastronauci | September, 2014 | Undisclosed Amount |
| Cibando | December, 2014 | Undisclosed Amount |
| Urbanspoon | January, 2015 | $60 Million |
| Mekanist | April, 2015 | Undisclosed Amount |
| MapleGraph Solutions Private Limited | April, 2015 | Undisclosed Amount |
| Nextable | April, 2015 | Undisclosed Amount |
| Sparse Labs | September, 2016 | Undisclosed Amount |
| Runnr | September, 2017 | Undisclosed Amount |
| TongueStun Food | September, 2018 | $18 Million |
| TechEagle | December, 2018 | Undisclosed Amount |
| Uber Eats | January, 2020 | $350 Million |
More About Zomato
Zomato Legal Name: Zomato Media Private Limited
Headquarter: Gurgaon, India
No. of Employees working with Zomato: 1000+
Competitors: Swiggy is the direct competitor in the food industry and many small competitors are in various city and State.